Viper Diamond Tungsten Soft Tip Darts
Manufacturer:
GLD Products
These Viper Diamond Tungsten Soft Tip Darts come equipped with:

Barrels: 90/10 Tungsten Diamond Cut Barrels
Shafts: Viper Diamond Aluminum Short Star
Flights: 1 Set of Flights

Tips: 2BA Tips
Weight: Your Choice of 16 or 18 Grams
Item #: 21-4802
Case: Compact Viper Diamond Dart Case (shown)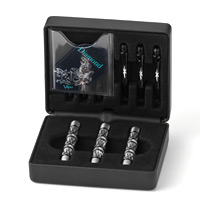 Product Numbers:
21-4802-16, 21-4802-18
Viper Diamond Tungsten Soft Tip Darts Reviews
Reviewed By: William Feb 12, 2015
Rating:
The dart knurling is very sharp and crisp and has a good feel to them. They are easy to hold and have better control of the dart.

Reviewed By: Chris Dec 6, 2011
Rating:
Your staff is simply amazing to work with. They saved me money on shipping and answered all my questions on a Monday morning. I was shipped my first order in a prompt manner, was packaged very professional and I'm happy to say that the darts I ordered have improved my game. Since then I have ordered two more sets of darts with other items. I would highly recommend Darting.com to any level of player out there. Thank you again for a great experience now and in the future.

Reviewed By: mike Feb 2, 2011
Rating:
these darts look awesome and are the envy of all my friends

Reviewed By: Megan Feb 2, 2011
Rating:
My favorite set thus far.

Reviewed By: Diamond Jan 26, 2011
Rating:
It's a great looking dart not to mention the Diamond cut grip witch I like very much. I am very happy with my new Diamond Darts!