Rating:
These Viper Diamond Tungsten Soft Tip Darts come equipped with:
Barrels: 90/10 Tungsten Diamond Cut Barrels
Shafts: Viper Diamond Aluminum Short Star
Flights: 1 Set of Flights
Tips: 2BA Tips
Weight: Your Choice of 16 or 18 Grams
Item #: 21-4801
Case: Compact Viper Diamond Dart Case (shown)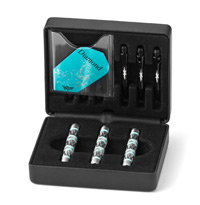 Viper Diamond Tungsten Soft Tip Darts Reviews
Reviewed By: Corey Aug 2, 2016
Rating:
Loving the darts! I bought some other flights but otherwise feels great flies great.

Reviewed By: brandon Dec 10, 2015
Rating:
Buy a decent set of flights, the stock flights are cheap. Shooting great with 18g.

Reviewed By: stacy Feb 21, 2013
Rating:
Bought these to replace my Astro's. They feel great & look sharp. Was bummed that they didn't have the blue 16 grams in stock so I ended up with the silver ones. My boyfriend has these in black & they look amazing! We both love throwing these on dart night!

Reviewed By: chad Jan 2, 2012
Rating:
Was very happy with these darts was just kind of dissapointed that I dident get the little washers that are suppose to be on them..

Reviewed By: Cecile Apr 20, 2011
Rating:
These darts are striking. I love the look and the feel. The color is fantastic.