Cosmo Dart Fit Flight System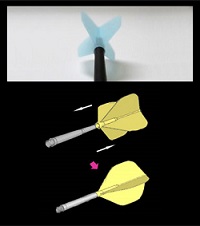 Innovative Flight System
Innovative flight and shaft
The "Push In" system enables easily installation
It firmly keeps a right angle
The exclusive shafts - 2 types

Spin type: No wobbling (shaking), smooth spin
Lock type: Firmly fixed
Tight Groupings
Fit Flights dramatically reduce deflections by rotating when another darts touches the flight. This offers an uninterrupted path to the target.
Improved Accuracy
Fit Flights are molded to achieve precise aerodynamic trajectory. This solid one piece design gives you the perfect right angle in your flight. No 'squaring up' flights in between throws. And the strengthened nylon shaft gives a more stable base than found in other spinning flight/shaft systems. No wobbles or bent wires. And Cosmo manufactures their spinning shafts with 100% strengthened plastic resin to enhance durability and increases resistance to bending, breaking, and curving.
Eliminates Robinhooding
Cosmo's Fit Flight's are molded and the end of the shafts tuck safely inside the flight so there is no chance of breaking prongs*. (*The upper area of conventional shafts which secures the flights.)
Easy Installation
Simply slide the shaft into the flight and snap into place. In just seconds you're ready to compete.
Durability
The same design features that help improve your game also reduce wear and tear. Add to this a high strength thermal plastic and you have the longest lasting flights and shafts sold today.