Casemaster Sole Aluminum Dart Case
The Casemaster Sole Dart Case offers professional quality in a small case! This case is affordable and stylish.
Richly embossed aluminum case

Holds 1 complete set of darts

3 mini sleeves for extra shafts

3 pockets for extra flights and wrench

Product dimensions: 7.5 x 2.5 x 3.25 inches

Item model #: 36-0403-01

Product not included!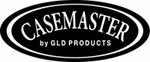 Casemaster ® Sole Dart Case Reviews
Reviewed By: Rhonda Mar 2, 2012
Rating:
Great timely service and shipment. Love this dart case!!! Even my husband loves his! Well worth the extra $ for the extra room and protection for my darts.

Reviewed By: mike Nov 15, 2011
Rating:
Well made and handy as it gets , don't wana drag too much with you yet what u might need this case is perfect

Reviewed By: Lisa Aug 24, 2011
Rating:
very nice case. Pretty big for only holding 1 set of darts and supplies. My 1 complaint, the darts sit in 3 foam channels as stated above and my darts do not stay in there at all. When I open the case my darts are not held in place at all.

Reviewed By: michael Sep 21, 2010
Rating:
More case than I expected. A bit much for 1 set of darts. It'll hold my darts and my wife's dart case. It's more than I needed and a bit cumbersome. If you have a lot of accessories and spares it's great.

Reviewed By: Nick Sep 15, 2010
Rating:
Great case. Does everything I need. Keeps my darts safe. Very happy with it

Reviewed By: thomas Aug 17, 2010
Rating:
great case.very big with lots of space for extra parts and things.

Reviewed By: Josh Jul 11, 2010
Rating:
The case itself is awesome and I got more than I expected with it. The darts sit in three foam channels that hold them in place pretty well. There is a middle flap inside that helps with this and also provides storage for extra flights and a velcro pocket for tools and extra barrels. The inside of the lid also has storage for extra flights or shafts. My only complaint with this case is the size. I didnt pay close enough attention but 3.25" deep and 2.5" high is a huge case for one set of darts.

Reviewed By: michael Apr 22, 2010
Rating:
not quite as rugged as it appeared on the website

Reviewed By: bill Feb 24, 2010
Rating:
wife's case and she loves it very fast shipping

Reviewed By: Dawn Feb 4, 2010
Rating:
Love my new dart case... Excellent service.. Lightening fast shipping !!! A+++++