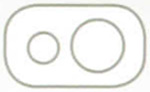 Accessory pocket and shoulder strap. Available in brown and black.
Product Numbers:
75-090808, 75-090806
Rating:
McDermott 1x1 Oval Pool Cue Case Reviews
Reviewed By: Mike Mar 29, 2022
Rating:
Cannot speak on Case Longevity as of yet, Bought McDermott Cue Stick that arrived today, with this free Hard Case.Only room for 1 complete Cue. And a pouch for Chalk.But it looks Well made. Pleased to get it for Free.