Beer Buddy Dart Tool: A Must Have for Dart Shafts
Product Num: DW-22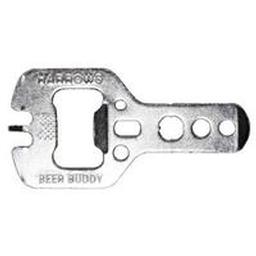 Rating:





The Beer Buddy Darts Tool is a great and handy tool to have when your playing a game of darts with friends. This unique product has all the tools you need to fix a dart right on the spot but the most important thing about it is that it all fits in 1 bottle opener! This dart accessory is small enough to carry or store anywhere, so you would never be without your Dart Buddy.
Tip Tightener
Key Point Lock
Bottle Opener
Shaft Slot Closing Holes
Beer Buddy Dart Tool: A Must Have for Dart Shafts Reviews
Reviewed By: Wil Feb 28, 2014
Rating:
This tool works great!

Reviewed By: Wayne Sep 26, 2011
Rating:
Good tool. The whole team uses it.

Reviewed By: Chris Sep 23, 2011
Rating:
Very handy. Need to buy several more for my friends. They can't seem to leave it alone.