Gambling Books
Rake in the Chips with this savvy guide to poker basics and beyond!
Whether you're looking for an edge in a friendly weekly game or aiming for the championship in a local poker tournament, this friendly guide shows you step-by-step how to bet, bluff, and play your way to the top, from seven-card stud and high-low splits to Omaha and Texas Hold'em.
Discover how to:
Understand Poker Rules

Play popular poker games

Keep a "poker face"

Read your opponenets

Participate in poker tournaments

Make the most of video and internet poker
ISBN 978-0-7645-5232-8
Teach Yourself Visually Poker by Dan Ramsey
Product Num: W-9780471799061
Manufacturer: Wiley Publishing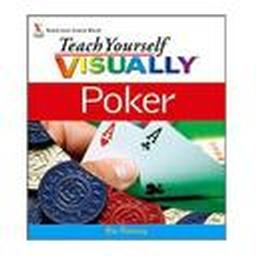 Do you feel like you're up the river at a poker table? Can you tell a bad hand from a good one? Do you know a kicker from a Joker? With Teach Yourself Visually Poker, you can become an ace player in no time, whether you play at home, in a casino or club, or online! You'll learn the basic rules, terms, and strategies for such popular poker games as Draw, Stud, Texas Hold'em, and Omaha. Step-by-step plays teach you how to read your opponents, how to tell when to hold or fold, and how to bluff like a pro. Hand-ranking and odds charts help you to take your game to a whole new level.
Concise two-page lessons show you all the steps to playing the game and are ideal for quick reference
Color photos make learning hands, strategies, and variations a sure thing

Step-by-step instructions walk you through betting strategies and the play of typical hands

Helpful tips provide additional guidance
ISBN 0-471-79906-8