GLD Steel Wire Short 2BA Dart Shafts
Product Num: 35-9103
Manufacturer:
GLD Products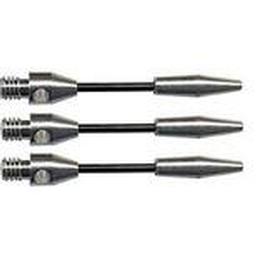 GLD 2BA Steel Wire shafts offer a slim, lightweight design made of strong steel. These shafts have a permanent top and are available in two different finishes and lengths.
| | |
| --- | --- |
| SHAFT SIZE | SHAFT LENGTH |
| Short | 1 3/8" |
All dart shafts are sold in sets of 3!
Product Numbers:
35-9103-00, 35-9103-01
Rating:





GLD Steel Wire Short 2BA Dart Shafts Reviews
Reviewed By: ken May 30, 2016
Rating:

Reviewed By: Pat Feb 10, 2012
Rating:
They do bend beware! My first bounce out bent the shaft, not alot but enough to notice. They do hold the flights all sorts of snug. Over all they're pretty good. I'll buy em again.

Reviewed By: Jeremy Feb 2, 2012
Rating:
Used to use aluminum shafts but found these to be better

Reviewed By: Marvin Aug 10, 2011
Rating:
I've found these stand up best and hold the flights for many games - even under our outdoor sessions.

Reviewed By: Steven Jul 21, 2011
Rating:

Reviewed By: Marv Mar 26, 2011
Rating:
Nice feel and they last longer than any other shaft I've tried.

Reviewed By: Allen Feb 11, 2011
Rating:
I bought the short shafts because it seemed the medium shafts were bending slightly. So far (2 weeks), no problems with the short shafts.