GLD Spinster™ 2BA Wire Replacement Top
Product Num: 35-7851-00
Manufacturer:
GLD Products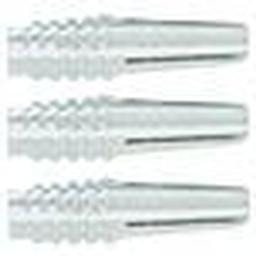 Rating:




Replacement Top for Spinster™ Wire 2BA dart shaft. This is a replacement part and is not meant to be used on its own.
All dart shafts are sold in sets of 3!

GLD Spinster™ 2BA Wire Replacement Top Reviews
Reviewed By: Nathan Dec 25, 2010
Rating:

Reviewed By: Sheldon May 4, 2010
Rating:
Looks cool and feels good but if you have a bounce out or something they bend very easily. You may not even realize it and then you can't hit anything; then you look like an idiot in the tournament cause you don't realize it until after.

Reviewed By: ken Jun 23, 2009
Rating:
love the look and the new throwing feel it has improved my game also save more on flights and you can replace the ends when you bend them after hitting them

Reviewed By: Chip Nov 26, 2008
Rating:
Have bought 2 sets from your site, like the tips and shafts they go on, but for some reason, the last etbought seemed to break at the segments, making them unusable, reason for buying extra sets.

Reviewed By: Chip Aug 16, 2008
Rating:
When you depend on the tight groupings, the shafts that these tip replace, you just don't want to be without spares.

Reviewed By: Allen Mar 27, 2008
Rating:
Basic need for a spinster fan!