Bottelsen Nylon 2BA Short Dart Shafts
Product Num: 3221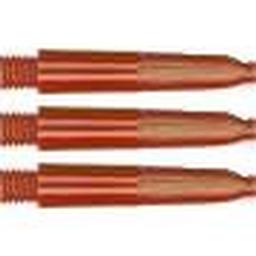 Product Numbers:
32217-1, 32210-1, 32212-1
Rating:




Shafts are sold in sets of 3
Length= 1 1/2"
Bottelsen Nylon 2BA Short Dart Shafts Reviews
Reviewed By: clinton Nov 9, 2015
Rating:
i like the nylon shafts and the price was good will be back to by more

Reviewed By: clinton Nov 2, 2015
Rating:
just perfect just what i needed

Reviewed By: David Jul 3, 2015
Rating:
I love the color, and so far they are holding up pretty well I use them in 2 different dart leagues and I have yet to break any of the sets I bought

Reviewed By: harold Aug 11, 2014
Rating:
Didn't like them.

Reviewed By: Bert Apr 2, 2014
Rating:
Good product it was just what they described will shop here again!

Reviewed By: Judy Jun 8, 2012
Rating:
We really like the nylon so far. We have always had wooden ones and they break so easy, especially with the grand kids playing. I'm sure we won't go thru so many. The only thing we found it is a little difficult to open up the split to insert the Flights.