Bottelsen Nylon 2BA Medium Dart Shafts
Product Num: 3231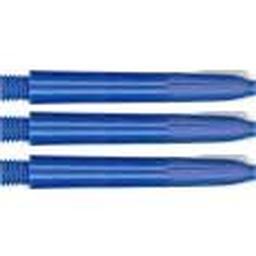 Product Numbers:
32312-1, 32317-1
Rating:




Shafts are sold in sets of 3
Length- 2"
Bottelsen Nylon 2BA Medium Dart Shafts Reviews
Reviewed By: randee Mar 14, 2011
Rating:
im going to use these for my florida state team try outs mar. 19 have been throwing well with them thanks darting .com

Reviewed By: randee Mar 7, 2011
Rating:
Glad i searched here for shafts found what i was looking for been playing for 28 years off and on i will be doing more business in the future.

Reviewed By: Gene Feb 13, 2009
Rating:
We ordered a few colors and sizes of shafts, one set came broken in the bag,one shaft fell apart in the dart case with two others broken when they bounced out and hit the Berber carpet,(NOT a HARD surface)? Not a very good product and we regret the purchase. I have been playing for 19 years and most shafts have lasted at least a season or two.

Reviewed By: Paula May 21, 2008
Rating:
I throw a light dart so these plastic shafts are great for me....and the price is unbeatable. I visited many sites before ordering from darting.com and couldn't find what I needed for less money. Just got my first order today and can't wait to place another order.