Casemaster ® Single Set Dart Case
Manufacturer:
GLD Products
The Casemaster Single Set Dart Case is a great small dart case. It is slim but still has plenty of room for your darts and accessories.
Holds 1 complete set of darts

Removeable insert to protect tips and barrels

2 pockets for darting accessories

Durable nylon

Belt clip

Product dimensions: 7 x 4 x 1 inches

Item model #: 36-0800-01

Product not included!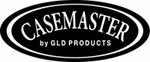 Casemaster ® Single Set Dart Case Reviews
Reviewed By: Walter Sep 23, 2016
Rating:
Great service plus great product! Period Cheers.

Reviewed By: Mark Oct 25, 2014
Rating:
perfect product to protect these darts

Reviewed By: Denise Dec 13, 2011
Rating:
Perfect exactly what I wanted , keeps your flights cross perfectly & great amount of storage

Reviewed By: Fernando Oct 3, 2010
Rating:
Got tired of my flights geting damaged at the airport when my bag was inspected, good darts need a good case and this one is it, even do the airport people still looks at my bag my darts remain fine, and when I go to the bars to throw I look kind of cool, you know not too much not too little just perfect.

Reviewed By: Matt Mar 8, 2010
Rating:
The perfect case for 3 darts. Great for traveling from bar to bar. Not a lot of storage, but I keep some tips in the main compartment and a set of flights and shafts in the front pouch. Love the hard plastic insert. Keeps three fully assembled darts and holds the flights straight.

Reviewed By: dale Jan 20, 2010
Rating:
Good case for steel tip darts and an extra set of flights and shafts.

Reviewed By: Richard Feb 11, 2009
Rating:
I love this case... the price was the initial draw for me, as well as how the darts sit in the case. But now that I have been using it... I love it even more. I have actually referred friends to your site... so they can get one too!

Reviewed By: Rudy Sep 7, 2008
Rating:
My order was shipped fast and perfect. The inner case is hard plastic and keeps your flights at a perfect cross. There are two pockets, one on the front and one on the back. The back as a belt loop that is Velcro, so you can place it on or off your belt without having to take your belt off. I found that I can hold several frights, extra shafts and a dozen tips. Perfect for your non-league nights. Love it!

Reviewed By: Patrice Sep 3, 2008
Rating:
exactly what I wanted