Rating:
Discontinued item. Limited supply left.
Item is discontinued, limited supply available.
The Casemaster Salvo dart case will keep your darts and accessories protected. It has a durable nylon exterior to keep moisture out.
Foam cushioned insert
Durable black nylon exterior
Holds 1 complete set of darts
Clips to waistband or pocket
6 pockets for accessories
Product dimensions: 7.25 x 2.5 x 2 inches
Item model #: 36-0545-01

Product not included!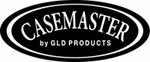 Casemaster ® Salvo Dart Case Reviews
Reviewed By: Leo Jan 29, 2016
Rating:
This is my third dart case and simply put the thinnest and easiest to transport

Reviewed By: Donn Apr 15, 2014
Rating:

Reviewed By: Donn Apr 8, 2014
Rating:
I ordered 3 items, they arrived safe and on time. I will continue to order from darting.com.

Reviewed By: Rodney Nov 17, 2011
Rating:
the cases (3) were better than the description and picture indicated. They hole the darts nice and secure with plenty of room for flights and points.

Reviewed By: WebGuy Jul 20, 2011
Rating:

Reviewed By: Joshua Jan 25, 2011
Rating:
Great quality case

Reviewed By: Kevin Jul 15, 2009
Rating:
Darting.com is great, but this case is just OK at best. I thought 2" thick would be enough, but my darts are overly crowded in the case. I have to put the middle one in upside down. The case is so slim that the flights still get smashed up inside. I think it would work fine if you use speed flights. The little pockets aren't made very snug. My extra flights fall out of the top 2 pockets when I open the case. I wish the top pocket were deeper, so I carry an extra set of shafts.

Reviewed By: Franko May 8, 2009
Rating:
Nice case. I too would like to see the foam sturdier. A tight fit for full size flights.

Reviewed By: MIchael Feb 24, 2009
Rating:
Nice case. Wish the foam that holds the darts was firmer...

Reviewed By: Chris Oct 14, 2008
Rating:
Great case for tournaments!

Reviewed By: Chris Oct 9, 2008
Rating:
This case is great for tournaments. By the end of the night, you don't have to set it down and walk out without your darts

Reviewed By: Ed Apr 25, 2008
Rating:
very nice case, not overly large. very happy with it so far.