Rating:





The Casemaster Super Bee Dart Case is a great way to keep your bee darts organized without taking up a lot of space. This slim case is great for travel! This case may or may not come with the Casemaster logo on the front of it.
Durable black nylon exterior

Holds 1 complete set of bee darts

4 pockets for extra flights and wrenches

1 mesh loop for storage

Product dimensions: 5.25 x 2.75 x 1 inches

Item model #: 36-0556-01

Pr

oduct not included!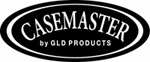 Casemaster ® Super Bee Dart Case Reviews
Reviewed By: annette Mar 6, 2014
Rating:
Great case, fits darts perfectly.

Reviewed By: carla Dec 18, 2012
Rating:
excellent item and price

Reviewed By: Bryan Jun 13, 2012
Rating:
Just for kicks I figured I would try a set of short darts. This case is even shorter -by a bunch. Using a buzz bomb dart with an aftermarket short shaft this case is barely long enough to hold the assembled dart less flights. Like all Casemaster cases this quality -if you like them very short.

Reviewed By: Emer Jun 8, 2012
Rating:
Great darts case for the price !!!!

Reviewed By: Emer Jun 8, 2012
Rating:
Great darts for the price !!!!