Try your hand at Kubb Viking bowling, the game that mixes the concepts of bowling and horseshoes. Use the throwing stick to try to knock down one numbered pin at a time for maximum score. The first person to reach exactly 50 points wins! Includes solid wood throwing stick and pins and carry bag. Take it anywhere in the convenient carry bag.
Includes 12 all-natural solid wood pins

One all-natural solid wood throwing stick

Object of the game: Score exactly 50 points to win the game by tossing the throwing stick at the numbered pins. If you knock down 1 pin you score the point value of that pin. If you knock down more than 1 pin, you score the number of pins knocked down only.

Convenient carry bag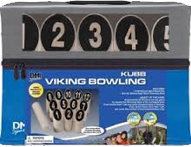 Kubb Viking Bowling Reviews
The Kubb Viking Bowling has not yet been reviewed.