Your family and friends will have hours of summer fun with this this 6-player Champion Croquet set. Comes with 6 mallets, 6 balls, hardwood stakes and vinyl-coated steel wickets. Store at home or take anywhere in the deluxe style carry bag.
Handles: 24" hardwood

Mallets: 7" hardwood with caps

Stakes: Two 16" hardwood with high visibility colored stripes

Balls: 2-3/4" polymer

Wickets: Nine piece vinyl coated steel

Deluxe style carry bag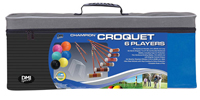 Champion 6-Player Croquet Set Reviews
The Champion 6-Player Croquet Set has not yet been reviewed.